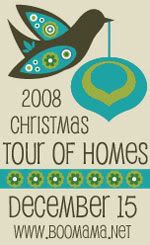 Wow I can't believe that a year has already came..
When I seen that the Tour of Homes was going to happen again I hesitated on even doing it this year.
I just really haven't felt like being in the holiday mood, For many reasons but one in particular.... I am 37 weeks pregnant and don't feel up to all the work.
We decided that we would put up just the tree for my daughter. When we got it out we relized we couldn't find the base. Me being so pregnant and Mike having a broken hand still I just didn't feel like looking any more. Luckily enough my dad has an extra tree this year
So here it is..
Can't wait to see all of yours :)